Contents
1. Ulysses In Cloaca
2. Orphei Lyra
3. Thesevs In Labyrintho

Written in verse with wit and humor, each piece features anti-heroic interpretations of famous characters out of Greek myth. Designed to be set to music and possibly gaudy color. Included is an Appendix with notes (a manifesto) on the performance and aesthetics of the pieces.
Subtitles
1. Ulysses Up S**t Creek
2. Was That Orpheus In The Underpants?
3. The Option Of Potions

Short extract
From Act II of Thesevs In Labyrintho, after King Minos has welcomed the children from Greece who are destined to enter the Labyrinth. Theseus is among them, with a secret agenda (like everyone else).

  :
ARIADNE
  Why yes, my father, though I'm kind of sad
  that of good-looking men there aren't more to be had.
MINOS
  But this is the rule, laid down by the gods
  (or at least by oracles, through murmurs & nods).
  We can't just make up
  some ridiculous tax;
  it would anger the Greeks and we couldn't relax.
ARIADNE
[musing]
  And gold we'd just spend,
  it would come to an end;
  perfumes go stale;
  but silk and fine fashions 
  wrapped up in a bale
  would be better than cash...
MINOS
  So, 
  you can see, my dear, that this system is best – 
  kiddies all tied together,
  led off to the maze, to play (and the rest)
  under clear mediterranean weather.
  Very good, carry on.
[with courtiers, exeunt]
ARIADNE
  Now I should, while he's gone,
  cross-examine this boy
  who's bigger and stronger than hoi polloi.
  :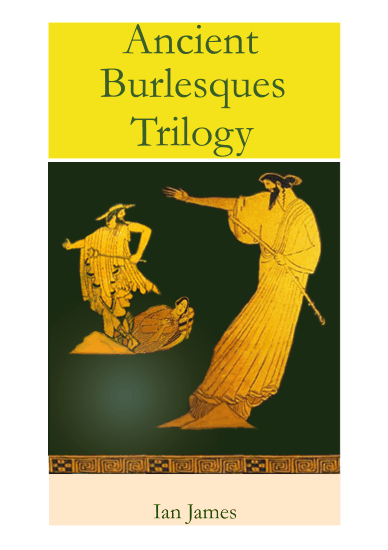 ISBN 978 0 9805146 ? ?

cover art copyright © 2015 Ian James